Is Meghan Markle Pregnant? This Dress Has People Convinced She's Expecting
The speculation about when Prince Harry and Meghan Markle will start a family has reached a fever pitch. Many royal watchers are now convinced the Duchess of Sussex is expecting because of the dress she wore to the 100 Days To Peace gala a few weeks ago. Meghan wore a stunning blue, ruffled Jason Wu dress for the evening, which she accessorized with matching heels by Aquazzura and a clutch by Dior.
Meghan's striking fashion sense always gets people talking, but this time it was for a totally different reason. Many people believe Meghan chose this particular dress because the ruffles hide a potential baby bump. Here's a better shot of the dress, which shows just how prominent the ruffles are: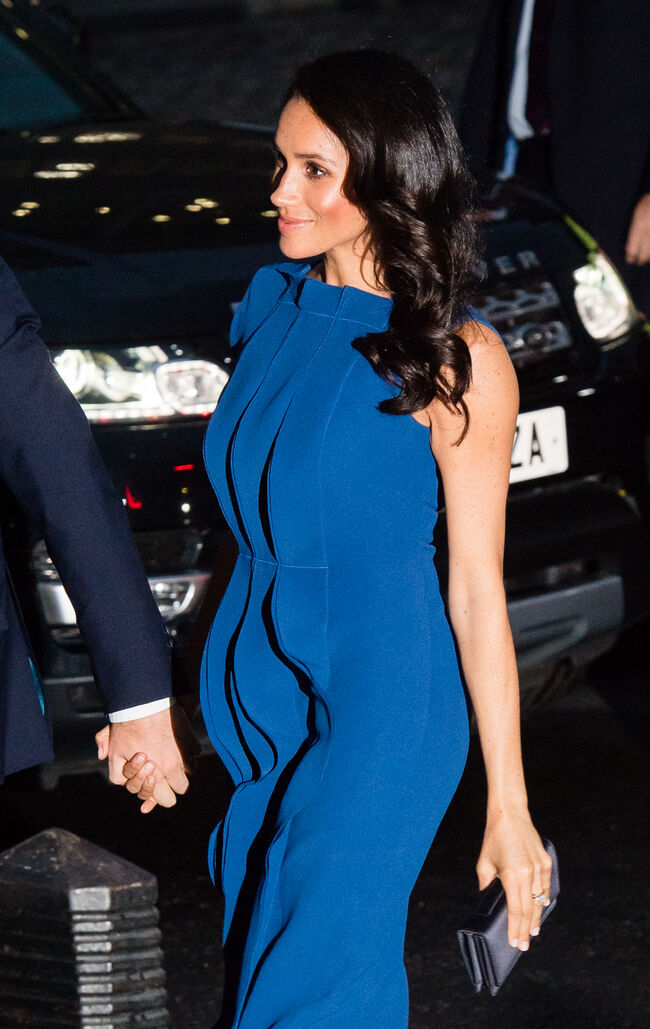 Royal expert Katie Nicholl, author of Harry: Love, Life, and Loss, told Entertainment Tonight a few months ago that "Prince Harry, particularly, is very keen to start a family, pretty soon after the royal wedding. He's made no secret about wanting children." Now that the wedding is a few months in the past, royal watchers are convinced Meghan's pregnancy will be announced by Buckingham Palace any day now.
Adding fuel to the fire, British bookies are now saying the odds have never been better for Meghan and Harry to reveal a pregnancy. Harry Aitkenhead, the head of bookkeeping company Coral, told Express: "It's Prince Harry's 34th birthday this weekend and with the couple making no secret of their desire to start a family, we think that it's almost inevitable now that the latest Royal baby will be arriving in 2019."
What do you think? Will Prince Harry and Meghan Markle reveal their expecting the next royal baby in the near future?