Chadwick Boseman Delivers Anthemic 'Black Panther' SAG Award Speech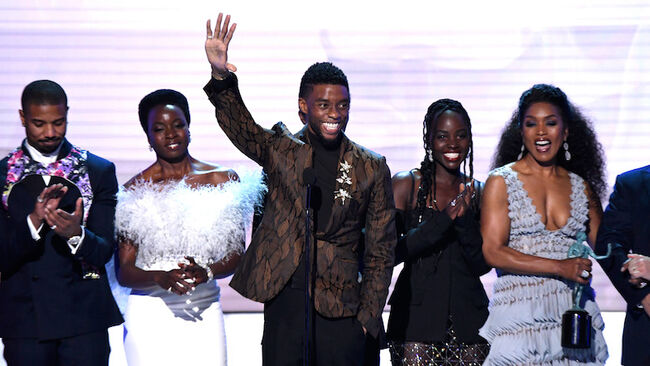 Wakanda won big at the 2019 Screen Actors Guild Awards.
Black Panther emerged victorious with two of last night's (January 27) highest honors at the 25th annual SAG ceremony, including Outstanding Performance by a Stunt Ensemble in a Motion Picture and Outstanding Performance by a Cast in a Motion Picture.
The latter win for the Marvel superhero film, which arrived like a thunderclap in theaters in 2018, was not just remarkable for defeating its fellow box office heavyweights Crazy Rich Asians, A Star Is Born and Bohemian Rhapsody — Black Panther made history as the first superhero flick and the biggest box office earner to ever claim the guild's top prize.
While accepting the award, leading star Chadwick Boseman — a.k.a. Black Panther — took to the mic with a deeply fundamental speech on the importance of representing Black talent in the industry, as castmates Angela Bassett, Danai Gurira, Michael B. Jordan, Lupita Nyong'o and others watched in astonishment.
Boseman began his speech giving thanks to his co-stars and the film's myriad execs, including Black Panther director Ryan and Marvel Studios president Kevin Feige, before launching into one of the most compelling moments of the evening.
"We all know what it's like to be told that there is not a place for you to be featured, yet you are young, gifted, and Black," Boseman said, looking out to the crowd. "We know what it's like to be told there's not a screen for you to be featured on; a stage for you to be featured on. We know what it's like to be the tail and not the head; we know what it's like to be beneath and not above."
"And that is what we went to work with every day. Because we knew — not that we would be around during awards season and it would make $1 billion, but we knew that we had something special that we wanted to give the world," he continued. "That we could be full human beings in the roles that we were playing. That we could create a world that exemplified a world we wanted to see. … If you get to experience that, you will be a fulfilled artist."
See Boseman's full acceptance speech below.