Lauren London Vows To Keep Head High As Nipsey Hussle's Parents Speak Out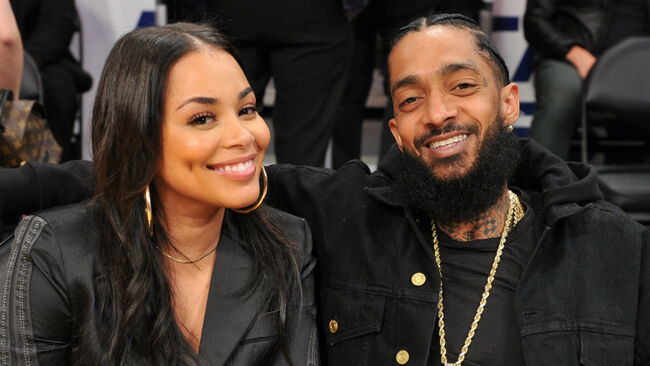 Nipsey Hussle's loved ones are remembering the man they called "the great."
Days after the passing of the 33-year-old rapper and activist, Nipsey's family — his parents, Angelique Smith and Dawit Asghedom, and longtime girlfriend, Lauren London — came together, at his grandmother's home in South L.A., to comfort one another and share their fondest memories of Nip, born Ermias Asghedom.
"He recognized at an early age his own capability," Angelique told the Los Angeles Times of her son. "His own potential. He has always known."
She continued, "I would like for him to be remembered as a humble, spirited, respectful man who had, since his childhood, had an extraordinary and unlimited intellectual capacity." Adding, she's found herself comforting mourners and advising them to "chase away the spirit of fear and grief... retaliation and anger."
Nipsey's father also spoke fondly of his son and his legacy, remembering Nip as a man with a powerful voice who used it for good. "It was like he was sent by God to give some love to bring us together because that's what his lyrics were saying, always," Dawit explained. "He's not shy to tell the truth even though it might not look good. He wasn't scared of anything. [God] sent him to send a message."
He added that he too has found comfort in knowing his son left a positive mark on this world. "We all have a plan, but God has his own plan," Dawit said. "So he had completed what he needed to be doing and he did it early so [God] probably want to take him early too."
Lauren, who is the mother to Nipsey's 2-year-old son Kross, spoke about how she's staying strong during this difficult time, and what she'll remember about her soulmate. "I'm going to keep my head high and always represent for my king to the fullest," she said. "He loved his kids. He was a family man. His family came first." Days following Nipsey's tragic murder, Lauren remembered her longtime love on Instagram. "I am completely lost," she wrote. "I've lost my best friend, my sanctuary, my protector, my soul. We are lost without you babe — I have no words."
Nipsey's mother also shared additional words about her son, encouraging others to find peace like she has. "I have perfect peace, and I have strength, and I want to lift you up," she said in a video shared on Jai Yew's Facebook page, just days after his death. "Please do not stay down, do not stay stuck, do not mourn. Because Nipsey is great [...] and now he's even greater because he has no bounds and limits. His energy is everywhere. He's there with you now and he's here with me now. And please be encouraged."
"When you walk this earth and you do good deeds for people, and you are loving and kind, those are the things that will show on your face. You will look more beautiful," she shared. "Ermias looked healthy, he looked clean, he had a glow, he was radiant. And he was so perfect he had a sweet aroma [...] he even smelled good."
"Death is just the beginning of a wonderful world," Angelique continued. "And I tell myself, Ermias liked thrilling things. And now my son knows the mystery—the secret, rather, to the mystery of life."
Nipsey will be laid to rest on Thursday (April 11). The celebrated rapper and activist's friends and family shared the details of his memorial service on Monday (April 8). "Join Us for the Celebration of the Life & Legacy of Nipsey Hussle," read the Instagram caption of the memorial service announcement, which features a photo of Nipsey in an all-white suit with angel wings.
The service will be held at Los Angeles' Staples Center from 10 a.m. to 12 p.m. It is free and open to the public. The complimentary tickets, however, sold out minutes after they were put up on the Staples website.
Following the service, the Grammy-nominated artist will take one last victory lap around Los Angeles as part of his funeral procession. According to TMZ, Nipsey's casket will cover just over 25 miles, traveling through South L.A. to a few important landmarks, including his Marathon clothing store, where he was fatally shot on March 31.
Photo: Getty Images