Oprah Defends Meghan Markle: 'She's Being Portrayed Unfairly'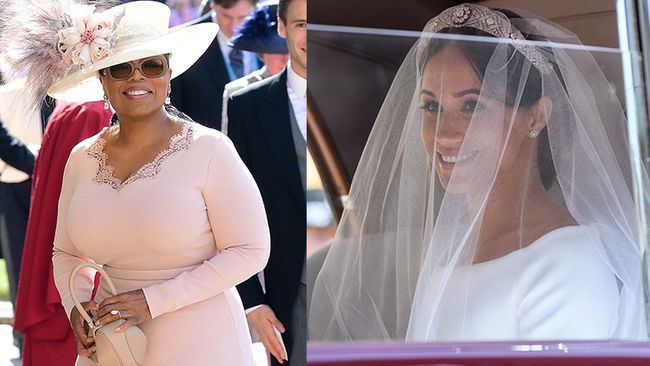 Meghan Markle has some loyal friends in her corner. After facing a ton of backlash and nasty rumors about her, the Duchess of Sussex has seen her friends rally around her. From George Clooney to Serena Williams, Meghan's besties are not here for how the freshman royal has been treated since marrying Prince Harry. Now Oprah Winfrey is speaking out in defense of the Duchess, as well.
Oprah stopped by CBS This Morning to talk about an upcoming project she's working on with Prince Harry. The two are collaborating on a mental health series launching on Apple sometime next year. While chatting her BFF Gayle King, who's also close with Meghan, Oprah came to the Duchess's defense. "I think she's being portrayed unfairly, and I feel that if people really knew her they would know that she is not only everything we perceive of her in being graceful and dynamic in holding that position, but she just has a wonderful, warm, giving, loving heart. I think it's very unfair," Oprah said.
Gayle, who attended Meghan's baby shower in New York City, chimed in, as well, adding: "She's very kind. She doesn't seem to buy into [her bad press] though." Oprah agreed, confirming that Meghan "does not read anything" that's printed about her in the press. "I think that's remarkable that despite everything that's going on she does not read anything," Oprah continued.
Oprah also recently took time to shut down the rumors she tried to bribe Meghan's mom, Doria Ragland, with gifts in exchange for an interview with her. The pair reportedly met at the royal wedding and hit it off. "She's great at yoga, so I said, 'Bring your yoga mat and your sneaks in case we just want to do yoga on the lawn,'" Oprah told Entertainment Tonight. "So one of the bags was a yoga mat and the other was lunch."
"She said, 'I love kumquats,' and I said, 'I have a kumquat tree! You want some kumquats?' So it was a basket of kumquats, people," Oprah explained. "For all of the people who said I am getting her gifts and I'm trying to bribe her for an interview, they were kumquats. If kumquats can get you an interview, I'm all for it!"
Photo: Getty