Ciara Talks Splitting From Future & Meeting Husband Russell Wilson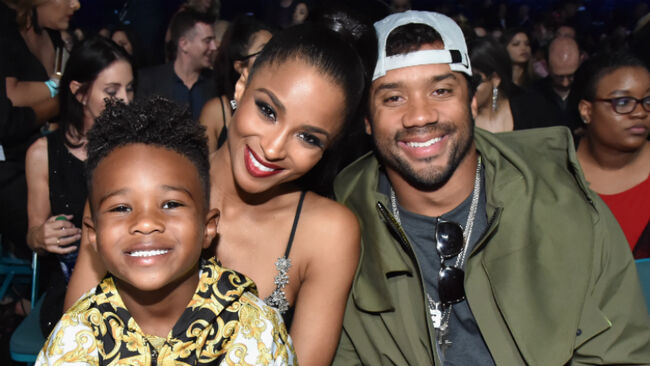 Ciara has yet to share the prayer she prayed to get Russell Wilson, but she did just reveal the emotional journey, and specifically the tumultuous split, that led her to meet the husband of her (and our) dreams.
While appearing on Jada Pinkett Smith's Facebook Watch series, Red Table Talk, on Monday (June 3), the 33-year-old singer got real about her split from her ex-fiancé Future. While she didn't mention the rapper by name, she recalled the emotional toll the relationship took on her, and what led to her decision to call off their engagement in 2014.
"I'd have moments when I would be in the shower, I'd be crying," she shared. "I had a few different settings — crying in the bedroom, crying in the shower [...] crying because I'm not in the happiest place and it hurts what I'm going through."
"I remember one time I was working out on the elliptical machine and I was just not sure about do I stay or what direction do I go? What's the right thing to do? It's easy to do this, but is the easy thing the right thing?" Ciara recalled. "It would be the worst scenario to stay in a situation that's just not healthy, that's not gonna get any better. I realized I had to start making different decisions. Period. [...] Knowing what you don't want is really important. That's more than half [the battle]."
"When I was thinking about my son [Future Jr.], I know what I want to feel," she continued about what she was searching for in a future partner. "I know the kind of love that I want for us. [...] If you stay in situations that are not healthy, or if you let them linger too long, you start to lose yourself. I don't like crying all the time. I don't like being sad, so I was like, 'How do I get out of this?'"
Ciara said it took her having an epiphany about how her father loved her mother that made her realize how she wanted to loved and treated in a relationship."My dad's love is what saved me in all of my situations," she shared. "Because it would get to a point where I would say, 'My dad wouldn't do this to my mom.' This just can't be love. I've always had the same goal of wanting to be loved in a certain way, but I was just walking in the wrong direction. I was looking in the wrong direction."
The "Level Up" singer then discussed how everything just felt right when she met Russell when baby Future was just 10-months-old. "It was different," she gushed. "I had never had that feeling in my life. It was just, like, calm. We were connecting in every way. ... His conversation, it was just different. The way that he looked at life was different. Also, the energy with my son, it just felt right. And of course, the consistency. He's consistent. That consistency is so crucial."
"He was like this, open arms," Ciara added. "And he was like, 'I got you.' Just the detail. Whenever he would think about me, he would think about my son. And to love me is to love my son. We come together. It's dope. It's a different level of love."
Photo: Getty Images